From our front door step out onto the extensive network of paths that criss-cross the palmeraie of the Todra valley. Palm trees, olive trees, and fruit trees offer welcome shade as you pass fertile fields of wheat, corn, alfalfa, and vegetables. Added to the song of the birds, is the sound of water splashing through a system of irrigation ditches that are centuries old. The palmeraie truly is a place of peace and tranquility.
WALKING
Walking is a superb way to explore and see the amazing variety of scenery, topography, and the way of life in the Todra area. The surrounding mountain ranges offer an opportunity to explore in all directions, visiting local villages, meeting nomad people, whilst enjoying extensive views and the ever-changing mountain colours. From easy, relaxing walks in the palmeraie, to longer, more challenging all-day walks, we can advise and guide you.
Our experienced local guides begin all walks from our guesthouse. A 10 km walk following the Todra river will bring you to the Todra Gorge. In the other direction, a 10 km walk will take you to Tinerhir. All-day walks include visits to Berber villages in the foothills of the High Atlas. Along the way you will also encounter encampments of nomadic people with their sheep and goats. We provide a picnic lunch and drinks for all-day walks.
Please request details for all walks.
CLIMBING
The Todra Gorge with almost sheer cliffs rising to 300 meters on either side of the river is popular for climbing and abseiling
DONKEY RIDING
For children, riding our gentle and friendly donkey, Jack, is perhaps the best way to enjoy a visit to the palmeraie!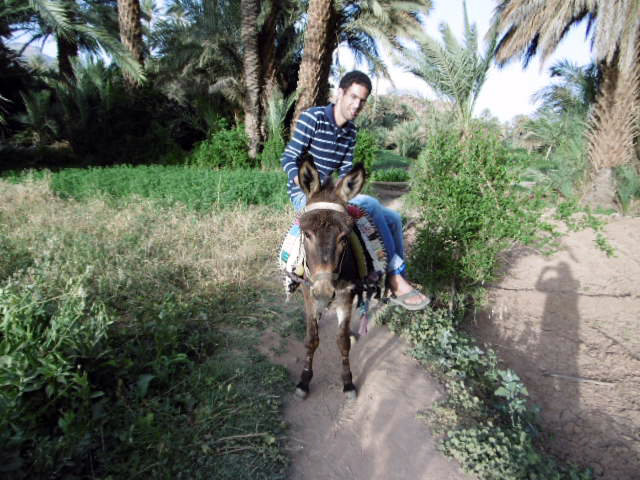 DESERT
The Sahara desert is only a 3 hour drive from our guesthouse. An overnight visit offers the chance to ride by camel into the desert, spend the night under the starry skies, and see the sun rise over the dunes at dawn. Let us arrange your visit!