Palmeraie Guesthouse is a family-run guesthouse and restaurant situated in the palmgrove of the Todra valley.
The house it's very fresh in the summer , ideal for families especially with children they can take a walk to the palmgrove and to the river not far from the house about 2 minutes.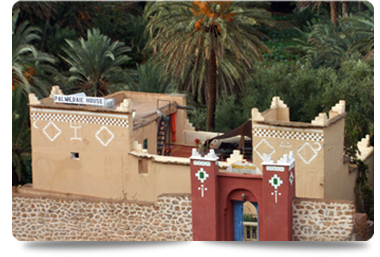 Here you can:
Stay in a traditional Berber house in the todra palmeraie .
Eat delicious Berber food .
Relax and soak up Berber culture.
Walk, hike and trek through the palmeraie, the gorges and the surrounding mountains.
Visit the souks and local markets.

Complete with WiFi internet Access
Contact Infos: E-mail: palmeraieguesthouse@gmail.com Telephone: (00212) 5 24 89 52 09 Fax:(00212) 05 24 83 31 82 Mobile: (00212) 6 65 97 62 25 GPS N°: 31°32.817 W5°34.674 or GPS N31.54 735 ° W a5. 57 789°